Stugfilla™ Valves

A New Solution in Cost Effective Filling Valves

Are you experiencing any of these problems with your BC filling valves:
Undue frothing and turbulence of wine when filling BVS screw capped bottles?
Reduced filling rate due to "choking" in the bottle neck?
Valve breakage due to fatigue causing lost production and potential damage to change parts?
High cost of replacement parts and long lead time from overseas?
Stug Australia is pleased to announce the Stugfilla™ valve for BC low vacuum filling machines in the wine industry. The patented design of Stugfilla™ can fill BVS screw capped and cork mouth bottles at optimal filling speed with significantly reduced failure rates, saving you time and money.

Tests show Stugfilla™ valves provide high productivity with no failures due to fatigue in 4 years

Stugfilla™ increases the filling speed of BVS screw capped bottles by 25 to 33% when compared to the standard cork mouth filling valve from the manufacturer. Bottle types that have been filled at 6000* per hour include OI 15588 and Amcor 001, 031, 044, 045 & 114. Australian made in 316 Stainless steel, Stugfilla™ valves have performed without failure due to fatigue over a 4 year period under normal production conditions.

When combined with a one piece fixed vent tube, Stugfilla™ represents an innovative, cost effective aftermarket solution for BC low vacuum filling machines:
"We wish to congratulate Stug Australia on the development of a re-engineered filling valve that we believe will have a huge impact on bottling production efficiencies in the Australian Wine Industry. When filling BVS screw capped bottles we were experiencing huge issues related to choking that resulted in us reducing our filler speed in order to fill bottles consistently. The speed reduction represented up to a 25% efficiency loss dependant on bottle type.

We have trialled a full set of Stug's re-engineered filling valves (36 in total) under normal production conditions filling BVS screw capped bottles with amazing results. We have been able to return to optimal filling speeds of approx 6,000 bottles per hour when filling BVS screw capped bottles with a vacuity (head space) of 30mm. We have also run some cork mouth bottles during this time with a vacuity of 63 mm with the same result. We had been considering replacing our filler and this would have represented a cost of up to $600,000.

Once again we would like to congratulate Stug Australia on developing a cost effective, innovative solution to a major productivity issue for our organisation."

Andrew McPherson, CEO & Paul Stratford, General Manager, Ozpak Pty Ltd
If you want to save time and money contact Stug Australia to discuss your requirements and find out how Stugfilla™ valves can work for you.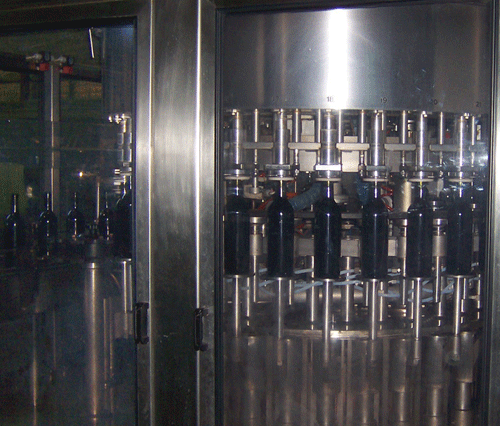 * Filling speeds may vary due to wine variety


For expertise, precision, quality and service we extend an invitation to you to contact Stug Australia for the solutions you require.

Call 03 9543 5044 or fill in the form below for more information.