CAD CAM
If you are looking for:
high-level technical expertise
design assistance and technical advice to ensure optimal performance and cost-effective manufacture
absolute accuracy, reliability and repeatability
a supplier who can work from drawing, CAD file or sample
...then Stug Australia is your answer.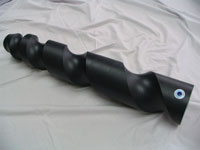 Our manufacturing facility includes the latest generation of CAD-CAM software including Unigraphics, Solid Edge, Camworks and Procam, with 3D modeling and digital reverse engineering.

We work with you to achieve your goals in terms of quality, price and delivery. With over 25 years experience in precision machining, Stug Australia has a team of engineers who can assist you with best practice manufacturing techniques and correct materials selection in terms of performance, manufacturability and compliance to relevant industry and statutory standards.

To avoid costly mistakes, we can use 3D modeling to see how a component will work and experiment with different design adjustments before proceeding to manufacture.

Using digital reverse engineering we can produce parts from your sample with accuracy and repeatability, verified by a report from our coordinate measuring machine. This can give you significant cost and time savings, and is an excellent alternative to imported parts.

Our CAD-CAM drawing service produces drawings and CAD files from your sample, which you retain and can use for future manufacture.

For expertise, precision, quality and service we extend an invitation to you to contact Stug Australia for the solutions you require.

Call 03 9543 5044 or fill in the form below for more information.